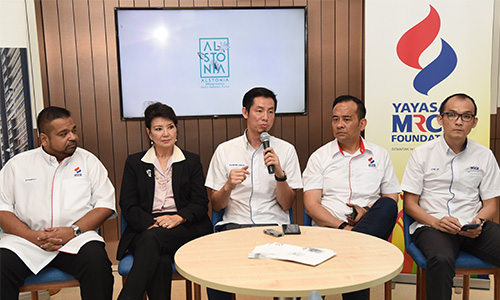 BUKIT RAHMAN PUTRA, SELANGOR, SEPTEMBER 2019 – Yayasan MRCB today received RM50,000.00 from the donation drive conducted by MRCB Land during their Home Ownership Campaign Carnival appreciation event for their customers.
At the carnival, a 12ft Giant Elephant Coin-Bank has made it into Malaysia Book of Records as the largest Animal Coin-Bank in Malaysia and has successfully collected RM25,000.00 from the public during the Home Ownership campaign of MRCB Land's Alstonia Hilltop homes. And in return, Yayasan MRCB matched each ringgit collected from the Coin-Bank donation drive, which resulted in a total collection of RM50,000.00.
YBhg Datin Jasmine binti Abdullah Heng, Chairperson of Yayasan MRCB together with two Yayasan MRCB's Trustees, YBhg Datuk Shamrat Sen Gupta and Encik Jamaludin Zakaria received the cheque from Mr Raymond Cheah, Chief Executive Officer of MRCB Land.
"Yayasan MRCB plans to use the amount collected to implement a life changing youth empowerment programme for 10 youths with disabilities to do vocational training for six months. The training will help and enable them to be employable and independent", said YBhg Datin Jasmine Abdullah Heng.
She added "this programme will commence by November this year after the completion of a selection process to ensure that the selected youths are from the B40 Group. At Yayasan MRCB, our Trustees and I strive hard to ensure that we continuously identify needy causes and evaluate their needs and undertake various programmes of value to support all these needy students in order to lead a better quality of life and to be self-independent in the future".