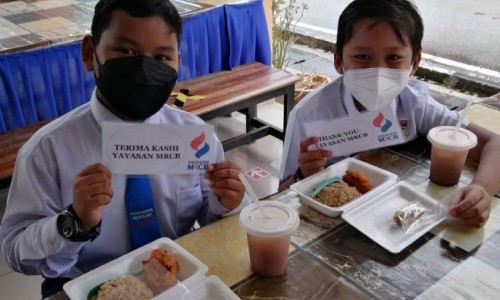 KUALA LUMPUR, 2 Jun 2021 –Following the surge of COVID-19 cases and the impact of MCO on the livelihoods of many Malaysians, Yayasan MRCB took a proactive approach to provide food baskets to marginalised communities in Penang, Perak and Klang Valley. A total of RM 380,000 was allocated for this programme.
To ensure immediate relief, wider reach, and efficient distribution, Yayasan MRCB rolled out the food basket programme with support from other NGOs such as the Malaysian Relief Agency, Yayasan Orang Buta Malaysia, Kuala Lumpur & Selangor Coalition of Women Organisations (KLSCWO), Development of Human Resources for Rural Areas (DHRRA Malaysia), Badan Kebajikan Mutiara Putrajaya and Food Aid Foundation.
A total of 2,330 B40 families and underprivileged homes were identified to receive the essential food baskets in June and July, including single mothers, visually impaired persons, jobless and low-income communities. Today, a total of 1,200 food baskets have been distributed, and the balance will be delivered in July. Each food basket contains basic necessities, including 10kg rice bags, sugar, biscuits, milo, cooking oil, flour, anchovies, milk powder, eggs, and some fresh vegetables.
"The project aims to provide immediate relief and mitigate the impacts of the health crisis in our communities, as well as easing the emotional and mental stress experienced by those in the low-income category and underprivileged groups. We are deeply grateful for all the support received from the NGO partners and volunteers to ensure the food baskets reach the recipients promptly. More people needed our help, and we want to appeal to other corporations or individuals to support our efforts either in kind or through cash contributions." said Datin Jasmine Abdullah Heng, the Chairperson of Yayasan MRCB.
All cash contributions to Yayasan MRCB are tax exempted and can be made to CIMB Account 8007 749 279.