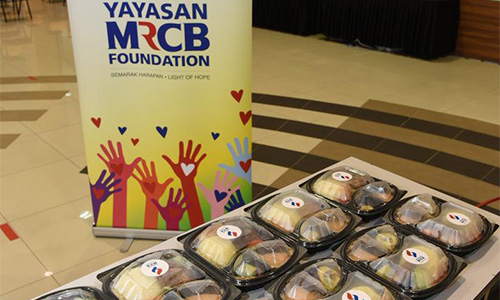 KUALA LUMPUR, 9 July 2021– Yayasan MRCB contributes 8,000 packed food to the frontliners and volunteers who are on duty at the hospitals and Covid-19 vaccination centres (PPV) in Klang Valley. This effort was not only to show appreciation to the frontliners at the same time with the objective to help micro-entrepreneurs to generate income to sustain their business. 
The overall contribution cost RM87,000, which was used to purchase packed food from twenty micro-entrepreneurs and caterers who could not operate their business as usual due to the Movement Control Order (MCO). 
The packed food were donated to frontliners on duty at the 11 Hospital and 5 PPVs such as Hospital Sungai Buloh, University of Malaya Medical Centre, Hospital UiTM Sungai Buloh, Hospital Kuala Lumpur, Sungai Long Medical Centre, KL International Airport, Vaccination Centres at Ideal Convention Centre (IDCC), PPV Kompleks Sukan Desa Tasik, PPV Malaysia International Trade & Exhibition Centre (MITEC), PPV Mega UiTM and PPV Pusat Dagangan Dunia Putra (PWTC). 
"Our healthcare workers have worked selflessly on the frontlines to support the government in their effort to curb the spread of Covid-19 in the country. The donation was a small gesture of appreciation to acknowledge the struggle of the frontliners who has work tirelessly day and night. In the same spirit, we are also helping the micro entrepreneurs and others who livelihood impacted or lost their job due to the MCO and unable to operate as usual.   Yayasan MRCB will continue to support the communities and extend the light of hope during this difficult time." said Datin Jasmine Abdullah Heng, the Chairperson of Yayasan MRCB.