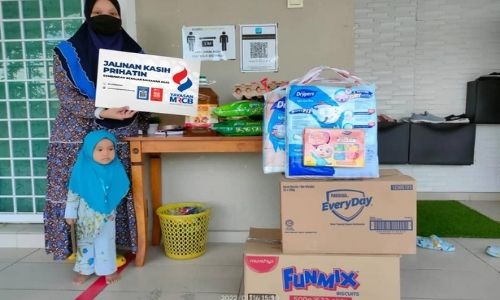 KUALA LUMPUR, 21 JANUARY 2022 – Yayasan MRCB contributed basic essential items worth more than RM20,000 to various charity homes and the underserved communities who were affected due to the Covid-19 pandemic.
The recipients of the contribution were IQ70 Plus Home for Intellectually Disabled Children Family Welfare Association, Rumah Sentuhan Budi and Pertubuhan Kebajikan Anak Yatim Dan Asnaf Teratak Ummi. Yayasan MRCB have pledged to assist these associations with items such as milk powder, rice, cooking oil, flour, eggs, milo, floor detergent, shampoo, toothpaste and other essential items for the next 6 months starting from January to June 2022.
The Covid-19 pandemic continues to impact low income earners. Yayasan MRCB sympathises with their pleas, hence it will continuously reach out to the affected communities to provide various forms of aid in hopes to lighten the burden they are facing.