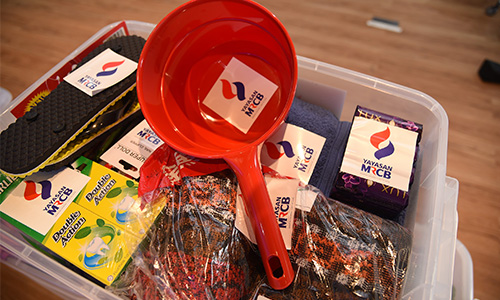 KUALA LUMPUR SENTRAL, 21 January 2020 – Yayasan MRCB today handed over 300 units of family hygiene kits to IMAM Response & Relief Team (IMARET) to assist families affected by any natural disasters in Malaysia. IMARET is a response team of medical doctors, health professionals and volunteers involved in providing humanitarian medical aids and hygiene kits during disasters in Malaysia and internationally.
The family hygiene kits contain items such as blankets, bath towels, pail/container, slippers, nail clipper, sanitizer, tissue packs, toothpaste, tooth brushes and soap.
YBhg Datin Jasmine binti Abdullah Heng, Chairperson of Yayasan MRCB together with Yayasan MRCB's Trustee, Encik Jamaludin Zakaria handed over the 300 units of family hygiene kits to Dr Ahmad Munawwar Helmi Salim, the Chief Coordinator of IMARET.
 Datin Jasmine Abdullah Heng said, "we understand the importance of having these hygiene kits ready at hand to ensure that whenever disaster occurs, these kits can be distributed immediately to the people affected. And IMARET is one of the first response teams to be at the disaster areas affected by natural disasters".
She added "Yayasan MRCB is committed to help the underprivileged and unfortunate communities and work with other NGOs on disaster relief efforts. There will be more programmes rolled out for this year 2020".